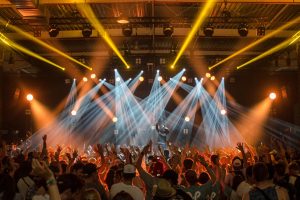 According to Mediamonitor.it, the only one to keep up with Vasco Rossi on the radio and TV is Jovanotti with his Jova Beach party which is going to start on July 2nd.
Vasco Rossi's return to live performances sold out not only in stadiums but also on the radio and TV: the concerts of the rocker from Zocca obtained 354 citations among national televisions and radio channels, winning by measure the media duel with Jovanotti (352), at the starting line with his highly anticipated Jova Beach Party which is going to start on July 2nd. Third place goes to Antonello Venditti and Francesco De Gregori (235) who debuted in their first tour together on June 18th at the "Olimpico" in Rome.
The data emerges from the monitoring of the main television broadcasters and radio channels by Mediamonitor.it (the general channels include Rai1, Rai2, Rai3, Rete4, Canale5, Italia1, La7, and the AllNews RaiNews24, SkyTg24 and TgCom24 networks – RaiRadio1, RaiRadio2, RaiRadio3, Radio24, Rai Isoradio, Radio Capital, RDS, RTL 102.5, Radio DeeJay, and Radio Monte Carlo). Mediamonitor.it investigated which were the most cited concerts from midnight on Sunday 9th April from 11 am on to Tuesday 27th June.
The new generation of Italian music loses the spot: Blanco is fourth (201 citations) – forced by an injury to stay away from the stage – and precedes Marco Mengoni (181) and "I Pinguini Tattici Nucleari" (167). Seventh position, and first among the international artists, the Rolling Stones (137), who stopped by Milan on June 21st for the only Italian date of their Sixty Tour, followed by Cesare Cremonini (77), who for only one-point leaves behind Sir Elton John (76). Only tenth the Måneskin (72), preceding the Duran Duran (55) and the duo Fedez & J-Ax, protagonists of "LoveMi", the free concert in Piazza Duomo in Milan to raise funds for the TOG Foundation. The ranking of Mediamonitor.it is completed by Brunori Sas (13th, with 35 citations), Laura Pausini (25), and Green Day (19).
Among the summer music festivals, the most mentioned on the radio and TV is "La prima estate", the event hosted at Lido di Camaiore (167), followed by the Lucca Summer Festival (118) and Firenze Rocks (82); the latter, however, wins in print and online (502 citations), ahead of I-Days, a Milanese review dedicated to indie rock music (403), and the Lucca Summer Festival.